"Your body's dying. Pay no attention; it happens to us all." – Lestat de Lioncourt
To many, Anne Rice is a genius. The Vampire Chronicles are by far her best work — and most controversial. This film is no exception.
We all know the story well: A young reporter, Daniel Molloy, goes about getting his most provocative story yet — an interview with a "real" vampire. Daniel is played by Christian Slater, cast after River Phoenix's (who was originally slated to play the role) untimely death in 1993.
The vampire Louis (pronounced "Louie" in the film) de Pointe du Lac, is played by a melancholy Brad Pitt. Louis, the reluctant member of an 18th century plantation family, is still alive and negotiating the 20th Century. In an attempt to unburden his heavy heart and all its tales from the past, he approaches Daniel and instructs him to record his biography for the masses.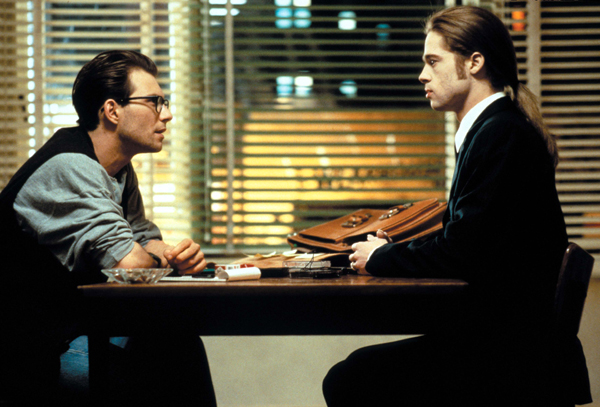 The story begins with Louis' first encounter with what he believes to be the only vampire remaining on Earth — Lestat de Lioncourt — played masterfully by Tom Cruise. The film follows his trials and tribulations, as he sets out to learn all he can about being a vampire from his reluctant teacher, Lestat.
Instead of adopting the carefree devil-may-care attitudes of his Maker, Louis becomes brooding and doleful, wondering why he has chosen the path that he did, what it means to the condition of his soul, immersing himself in palpable regret and confusion that leads ultimately to his most blaphemous act — the turning of a young orphan into their own eternally damned daughter.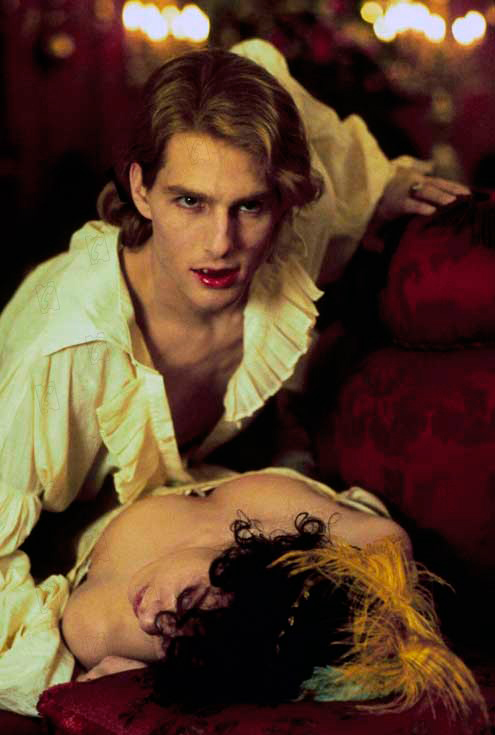 The film stays closer to the novel's storyline than most other books-to-big-screen adaptations, in spite of its vast scope of locations, preternatural flavor, and aesthetic content. However, there are still scenes left out that, in my opinion, should have been added. Most of the book's long, eerily lovely scenes surrounding the child vampire, Claudia, have been left behind. And although Kristen Dunst more than brings the ambiance of Claudia's decadent despair to the screen, I found myself wishing they had taken advantage of her ability, and included more of her in the film. A young and impossibly evil Kirsten Dunst shines as the miniature jezebel, and the volatility she brings to the role (in contrast to Pitt's depressed and morose darkness) is responsible for some of the best scenes of the film.
As a whole, Interview with the Vampire rises above most other vampire films by taking the best and the worst of the world of the Undead and portraying it with dark and deadly precision, effortlessly and seductively merging good and evil to allow us to see — sometimes uncomfortably — through the eyes of a conflicted vampire. It's no surprise that some viewers were disturbed when the movie was first released, as the film forces you into the perspective of the villain, and renders you helpless against his noble struggle to be heroic.
Like many Rice fans, I would have preferred the casting to have gone a different way. I would have liked to see what could have been with Pitt and Cruise's roles being switched, and I would have liked someone a bit younger than Antonio Banderas in the role of Armand, as in the novel he is a mere seventeen years old and possess an innocent vulnerability that Banderas simply lacks.
All in all, the flaws of Interview are minor, but sufficient enough to warrant a less than perfect rating. I give the movie an four out of five, mainly because of the casting issues. However, in my opinion, it is better to have physically-mismatched yet talented actors in a film (like Banderas) rather than physically-suited but untalented actors.
Nearly twenty years later, this film is still one of the best vampire movies out there and I look forward to more modern film versions being made out of the still mostly-untapped universe of the Vampire Chronicles.
"It's time we were on our way. I'm hungry, and the city awaits." – Claudia