The Vampire Chronicles
The Vampire Chronicles, published by Anne Rice, is a series of twelve books (including two categorized under "New Tales of the Vampires), written between the years 1976 and 2003. Beginning with the iconic Interview With the Vampire and ending with Blood Canticle, few novels within the canon of vampire literature have ever been so successful, or had so strong a voice in defining what a vampire is — or what a vampire wants.
Within these books lies a romantic, and oftentimes wistful, longing for meaning and purpose; the age-old questions of "Who am I?" and "Why am I here?" are theoretically extended into infinity, as those who receive the "Dark Gift" are propelled into a never-ending existence within the recesses of both the night, and of our own collective consciousness.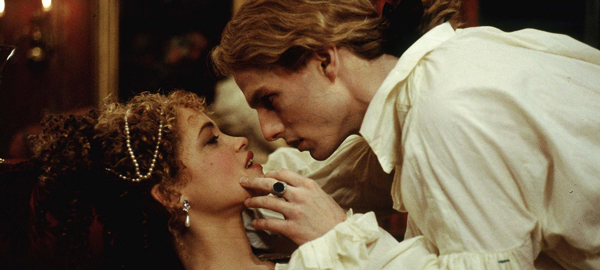 While the bulk of these novels have yet to be adapted for either the big or small screen, Neil Jordan's 1994 adaptation of Interview With the Vampire, starring Tom Cruise and Brad Pitt, is a sentimental favorite of not only longtime fans of the series, but Anne Rice herself. In contrast, the controversial 2002 film Queen of the Damned (a loose adaptation of The Vampire Lestat and The Queen of the Damned) was generally not well-received by fans of the series or Neil Jordan's film, and has been publicly disavowed on several occasions by the author herself.
Have you read The Vampire Chronicles? Seen the films? Love or hate any of the above? Please share your thoughts with us below.